Do You Need a One Time Shredding Service?
Do any of these comments sound familiar?
"My accountant says I can FINALLY get rid of these records!"
"I don't want to haul all those old papers to our new office!" (home, storage unit, etc…)
"Why do we keep paying to store these old documents?"
"What do we do with all of the documents that we just scanned?"
"My spouse has kept every receipt and utility bill for the last 20 years!"
Request a Quote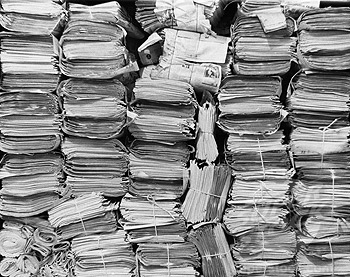 If you've had these thoughts, you could definitely use our one time shredding service, also known as a purge service.
The process is very simple.  Just give us a call, or fill out the form on our website and we will arrange to meet you wherever your documents are currently stored.  We will bring our shred truck right to you, load your papers into our 64-gallon rolling containers and then shred them right there, before we ever leave.  With our on-board video system, you can watch as your sensitive papers are shredded, giving you the peace of mind of knowing your information is properly destroyed.
By properly disposing of your old records, you not only protect the information of your clients, your vendors, your employees, and yourself, you also are having a positive impact on the environment and remain compliant with all of the government mandated privacy protection laws.  The penalties for improper data disposal have skyrocketed in the past few years and can easily top $1,000,000.00 with a single data breach.
From one box to 10,000 boxes, BestShred is the company to call for your one time shredding service needs!