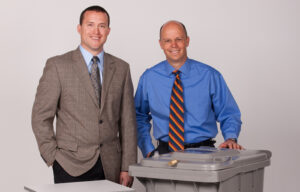 BestShred, a locally owned and operated company, was founded in 2009. The story begins with  Miles McCracken having sold a previous company and experienced some frustration when dealing with the large shredding companies that were based out of state, and dispatched from Salt Lake City.  They were unresponsive to his requests to send a truck to his location.  Recognizing an opportunity, he called his friend Brett Bailey, and asked if he would be interested in looking at developing a Utah County-based shredding business.  After many months of investigation, research, study and hard work, BestShred, LLC was officially organized, software systems were put in place, and a truck ordered.
Our goal is to provide first-class service at competitive prices.  The first item on our agenda after having purchased the truck was to fulfill the requirements and go through an independent audit to become NAID AAA Certified.  This certification, recognized around the world as the highest standard in information destruction, gives clients the peace of mind that their confidential documents are being destroyed in a manner that meets or exceeds the standards set forth in federal, state, and local regulations.
Being locally owned and operated, BestShred is able to quickly respond to customer requests.  Our customers are able to contact us, the owners of the company, directly. You won't get put on hold and transferred to an out-of-state call center.
Miles and Brett are committed to providing excellent customer service for all their customers.