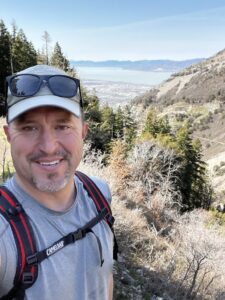 Call Us Today for a FREE Quote!
(801) 610-9181
or
Brett grew up on a small family farm in Washington state where he learned the value of hard work and developed a love for the outdoors.  After spending a year in Mexico as an exchange student, he moved to Utah to attend BYU, where he and Miles met.  He has 4 adult children and the cutest grand baby in the world!!  Brett married the love of his life in September 2022 and has never been happier.
Brett spent over 15 years in the computer software industry giving him experience in software architecture, project management, marketing, IT infrastructure, and management.  He has been involved with numerous start-ups as both an investor and consultant.  He spent several years in residential land development where he used his skills to complete several large development projects throughout Utah county.
Brett loves being outdoors, whether it be golfing, hiking, biking, fishing, hunting or just mowing his lawn.  He enjoys scuba diving and he has his private pilot's license.  Brett serves on the board of A Child's Hope Foundation (ACHF.org) as their Director of Orphan Support.  He also regularly leads service groups to Mexico to help improve the lives of the nearly 450 children in the nine orphanages the foundation supports.
Brett is committed to providing excellent customer service and meeting the document destruction needs of the businesses and individuals he serves.